"Go & share" – RYVM Meeting 2022 in Toruń
On July 27-31, 2022, the Parish of St. Joseph in Toruń, Poland, will host the  XII. European Meeting of Redemptorist Youth under the motto "Go&share!". 
The last meeting took place in 2018 in Granada, Spain. After a four-year break, Toruń will host the participants of the next edition. The event will bring together young people from all over Europe and will be an opportunity to celebrate faith together.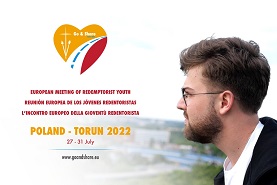 Here is what the organisers say about the meeting:
What have you planned for the youth meeting in Toruń?
The organising team is continuing the tradition of previous European Redemptorist Youth Encounters editions. The event will begin with the Eucharist and a praise concert performed by an 80-person symphony orchestra. The plan includes daily catechesis and workshops. There will also be an opportunity to have fun together and to present the cities/provinces from which the participants have come during the Youth Festival.
At what stage are the preparations?
Preparations are going very well. Our Krakow team recently visited Toruń and promoted the event in the national media. Last week, the music video for the anthem of the event also had its premiere.
How many young people will take part in the meeting?
About 300 young people from all over Europe will take part in the meeting. Registration lasts until 30 June.
Why is it worth visiting Toruń?
Toruń is famous for its gingerbread and its most eminent citizen – the astronomer Nicolaus Copernicus. You will undoubtedly be enchanted by the medieval Old Town and the majestic Vistula River.
More information can be found at www.goandshare.eu.
We encourage you to follow our social media on Facebook and Instagram!
If you have any questions, don't hesitate to contact us by e-mail: office@goandshare.eu