Alphonsian Day celebrated with vibrancy and diversity at World Youth Day in Lisbon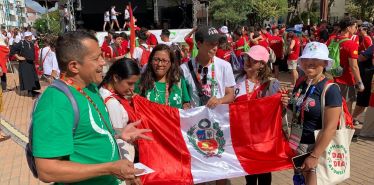 Lisbon, August 2, 2023 – The second day of the much-anticipated World Youth Day in Lisbon witnessed an unforgettable afternoon filled with cultural performances, spiritual reflections, and vibrant camaraderie among young participants from all around the world at the Redemptorist Parish Church of Our Lady Mother of God of Buraca. The highlight of the day was the celebration of Alphonsian Day, on the 2nd of August, dedicated to Saint Alphonsus Liguori for a special get-together of all the Redemptorist youth around the world.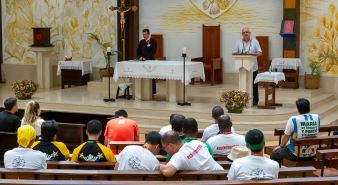 The afternoon commenced with an animators' meeting, where representatives from different countries came together to coordinate and plan the day's events. Fr. Zdzislaw Francis Stanula, CSsR, Vicar General, presented the chapter decisions and message of Fr General Rogerio Gomes, CSsR., followed by a welcome address by Fr. Rui Santiago, the Provincial Superior of Portugal. There were youth from Poland, France, Spain, Brazil, India, Mexico, and Ireland. They gathered to showcase their unique cultural performances, each infused with the richness of their respective traditions.
The event featured a diverse range of cultural performances, including traditional dances, musical recitals, and theatrical performances. The mesmerizing diversity of cultures brought an atmosphere of unity and understanding, as the audience embraced the opportunity to witness the world's vibrant heritage in one place. A video message by the Superior General, addressing the Alphonsian Youth, motivating them to witness the Redeemer in their life. Fr. Rui Santiago, the Provincial superior of Portugal, welcomed all the youth, thanked the mayor of the city for all help and support in organizing the event, and thanked the volunteers for tireless work to make this day a memorable one. Following the cultural showcase, a prayer session was conducted, invoking a sense of spirituality and connection among the participants. The prayer session offered a moment of reflection, emphasizing the shared values and aspirations of the young people attending the event. Prayers were recited in multiple languages, a testament to the global reach and inclusivity of World Youth Day.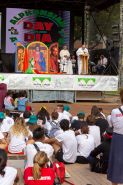 As the sun began to set, participants gathered for the cultural evening, where they interacted, exchanged stories, and built new friendships. The evening was abuzz with laughter and camaraderie, showcasing the true spirit of World Youth Day, promoting understanding, and fostering a sense of global community through music and dance.
Throughout the day, checkpoints were set up to ensure the safety and well-being of all attendees. The organizers meticulously coordinated the event to maintain a secure and enjoyable atmosphere for everyone. Moreover, several stalls were set up, featuring a wide array of products from different countries, T-shirts, souvenirs, and religious items. The visitors enthusiastically explored these stalls, eagerly immersing themselves in the cultural diversity offered. Food stalls were also set up, providing participants with a delightful opportunity to savor a variety of international cuisines. Traditional delicacies from each participating country were served, tantalizing taste buds and creating a delightful culinary experience.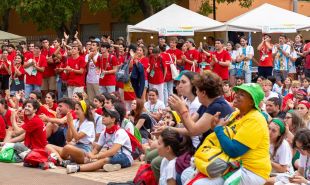 Alphonsian Day during World Youth Day in Lisbon proved to be an extraordinary celebration of culture, faith, and unity. The event exemplified the power of youth in promoting understanding, cooperation, and friendship among diverse communities. As the festivities continued, the message of World Youth Day shone bright – the future lies in the hands of the youth, who can make the world a more inclusive and harmonious place.
Scala News