Preparation for final vows 2021 started
Monday, 5 July, Fr. Janusz Sok C.Ss.R., Provincial of the Warsaw Province of the Redemptorists, presided at the Holy Mass to inaugurate the month of preparation for final vows. Its first two weeks will occur in Lubaszowa, and the second part will be continued in Krakow.
Among the participants are the seven seminarians who last June finished their fifth year of studies at the Redemptorist Theological Seminary in Tuchow. During the month of spiritual renewal, we also welcome confreres from Ukraine: two seminarians.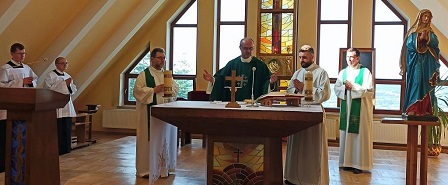 The Month of Renewal is a time for all of us to "renew" our spiritual lives. The month is also a time for recalling the most important aspects of Christian spirituality, priestly ministry, human psychology, and community life in the Congregation by listening to various conferences given by invited speakers, both clergy and laity.
It is a time of intensive prayer and for the seminarians it is the time of immediate preparation for their solemn profession in the Congregation of the Most Holy Redeemer, which will take place on 15 August this year, on the Solemnity of the Assumption of the Blessed Virgin Mary.