Social Ministry
 The working group on Social Ministry reflects on how we can make effective, the pastoral care of migrants and those from the margins of society who are often deprived of any pastoral help.
The group consists of following persons:
Fr. Winfried Pauly (San Clemente Province) – chairman
Fr. Urquizo Vasquez Guillermo Ulianov (France Province)
Fr. Ivan Levitsky (Lviv Province)
Sr. Renate Drexler MSsR (Wien)
Mr. Jelle Wind (San Clemente Province)
The group elaborated an understanding of Social Ministry.
The group has started an overview of different initiatives on Social Ministry.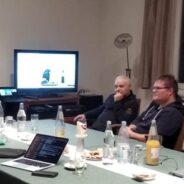 The meeting of the Secretariat for the Evangelisation of the Redemptorist Conference of Europe took place in Bonn from November 29 to December 1, 2022. The venue for the meeting was the religious house of the Redemptorists, who run the Collegium Josephinum here. The meeting aimed to summarise the work of the Secretariat in its various areas of activity: a partnership in mission, social ministry, youth and vocation ministry, and new missionary initiatives. The prospects for implementing the indications of Phases I and II of the XVI General...
read more