Coordinator
Jacek Zdrzałek CSsR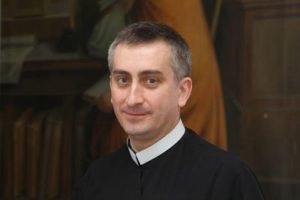 He was born in 1964 in Zabrze (south part of Poland). After high school he started Major Redemptorist's Seminary in Tuchów. He took first religious vows in 1985 and the priestly ordination in 1990.
His first appointment after the seminary was the work with youth in redemptorist's parish in Torun (north part of Poland). He was the vicar of the parish priest, the teacher of catechesis lessons in different high and elementary schools, the leader of "Oaza Movement" for youth and children. He was working with handicapped children and in the movement for catholic parents.
After almost three years of working in Torun he received the scholarship about journalism and he went to Catholic News Service in Washington DC in 1993. After 5 months in United States he came back to Poland and with the lay journalists he started to organize Polish Catholic News Agency in Warsaw. He was elected as ordinary consulter for Warsaw Province of CSsR in 1996.
During the 13 years he was working on different stages of the first formation in Warsaw Province (as the prefect of Postulancy in Cracow 1998-2005; as the rector of our Major Seminary in Tuchow 2005-2008; as the prefect of Junorate for brothers in Tuchow 2006-2008; as the Master of Novices in Lubaszowa from 2008). He was the superior of CSsR communities in Tuchow and Lubaszowa.
He has received the doctor degree in theology of apostolate (subject: theology of the consecrated live) in the University of Cardinal Stephan Wyszynski in Warsaw in 2001. He gave the lectures about theology of consecrated life and introduction to christianity in Major Seminary in Krakow and Tuchow, in University of Cardinal Stephan Wyszynski and in many religious congregations in Poland. He wrote a few books about consecrated life.
He is the member of the General Secretariat for Formation CSsR (from 2003) and he was giving the lectures during the courses for formators in Bangkok (Thailand), Perth (Scotland) and New York (USA). He was the member of XXIV General Chapter (2009). He was preaching the spiritual retreats in Europe, North America and Africa.
He was elected as the Coordinator of CRE and started his activity from the 1st of June 2011.