Letter of the Major Superiors of Southern Europe and the Coordinator to the confreres and Lay Redemptorists
After the Extraordinary Visits in Southern Europe and the evaluation meeting together with the General Government the Provincial Superiors of the respective Provinces (Rome, Naples, Madrid, Lisbon and France) and the Coordinator for Europe sent a common letter to the confreres and Lay Redemptorists to inform about the process and the results.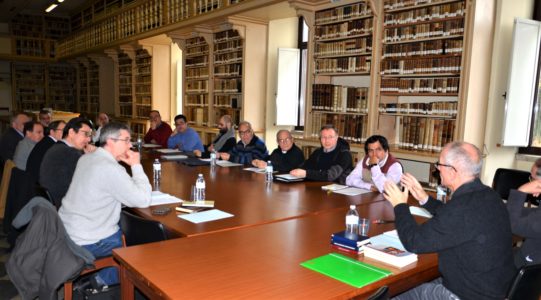 March 8, 2018
Dear Confreres, dear Lay Redemptorists,
In five assemblies, the Extraordinary Visit of the General Government to Europe South has taken place in recent weeks. Superior General Fr. Michael Brehl, the General Consultors from Europe, the Coordinator for Europe, the Provincials and Ordinary Provincial Counselors of the relevant Provinces gathered last week, from February 28 to March 2, 2018, in Rome where we were well received to share the results of the meetings and to continue the considerations.
Many confreres and lay people took part in the meetings and the opportunity to engage in the dialogue to implement the decisions of the XXV. General Chapter. It was a great opportunity for them to deepen their understanding of the message and decisions of the General Chapter and the process of restructuring of our Congregation. Many have noticed that they are experiencing for the first time that such a comprehensive process of participation is being carried out. A large majority of the confreres and lay people have expressed their awareness of the particular challenges we face and the need for a more intense cooperation between the Redemptorist units. Given this background, they have contributed to the reflection on the Apostolic Priorities and the restructuring of the Redemptorist units in Europe.
At our meeting in Rome, we brought together and coordinated the reflection on the Apostolic Priorities of the various assemblies. In addition, we discussed our concerns regarding community life and the common formation of our confreres, which were also addressed in the meetings. Finally, we discussed the criteria for restructuring and put into possible terms various ways of restructuring the units in Europe and especially in Europe South having in mind that restructuring is for the Mission of the Congregation and not just to continue already existing structures. From our reflections, concrete suggestions for our vocation ministry and formation will be incorporated in the meeting of the formators of the Conference of the Redemptorists in Europe in Trois-Epis (9-13 April, 2018). The reflection on the Apostolic Priorities and Restructuring will go to the Conference Commission, which will prepare the first draft of an Apostolic Plan for Europe, and will be continued there.
We are convinced that these reflections will help us better shape our witness to the Redeemer Jesus Christ in our wounded world.
We wish all of you God's blessing in this time on the way to the Feast of Easter and greet you warmly.
Fr. Gianni Congiu C.Ss.R., Province of Rome
Fr. Serafino Fiore C.Ss.R., Province of Naples
Fr. José Luis Bartolomé C.Ss.R., Province of Madrid
Fr. Antonio Marinho C.Ss.R., Province of Lisbon
Fr. François Stanula C.Ss.R., Province of France
Fr. Johannes Römelt C.Ss.R., Conference of Europe