All Together – XI. International Redemptorist Youth Meeting of Europe in Granada
The XI International Redemptorist Youth Meeting of Europe "ALL TOGETHER" was held from 25th to 29th of July, 2018 in Granada, Spain. There were around 725 participants from all the units of Europe and even beyond. The Redemptorist fathers accompanied the youth from their units, aspirants and confreres in formation attended the youth meeting too.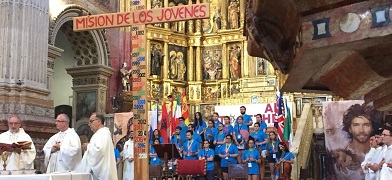 The groups arrived in Granada and were directed to their residents on 25th afternoon. In the evening the opening Eucharistic was presided by Fr. Michael Brehl, Superior General of the Congregation of the Most Holy Redeemer at the Royal Monastery of St. Jerome. On the occasion of the feast of St. James, Fr. Michael preached on the Patron of Spain. He highlighted the missionary aspect of giving one's life to Jesus in service. After the dinner the program continued with a festival, programs presented by different European Provinces.
In the following days the morning prayers followed by an introduction in the respective theme and a catechesis marked the day. The performance of a Musical about the life of St. Alfonsus, the visit of the Alhambra (Unesco World Heritage), the Eucharist at the Sacromonte Abbey (a foundation place of Christianity in Granada) and the invitation to a relaxing afternoon in the waterpark Aquaola were some highlights. All the Redemptorists participating in the Youth Mission were invited to a meeting with Fr. General Michael Brehl, followed by a special meeting for all confreres in formation.

A central part of the whole meeting were the procession with the Icon of Our Lady of Perpetual Help to the Cathedral of Granada and the following time of prayer and reconciliation. It was a very intense and heart-touching moment of celebration of faith and personal prayer in the presence of the cross. The personal meeting with the Redeemer created a community of prayer and faith.
The final day was the day of commissioning. The coordinator of the Conference of Europe, Fr. Johannes Römelt, was the main celebrant at the Eucharistic. The personal witness of Ana and Piotr, a couple of the Polish group celebrating their wedding, the renewal of vows by the Redemptorists present in the celebration and the sending out of a group of Spanish Redemptorist Youth Missionaries were expressions of the theme of this concluding celebration: All together we are sent out to serve to one another.

A special thanks was expressed at the end of the celebration to the preparation group of the youth meeting: Redemptorists and Laypartners in the Madrid Province and beyond who made this meeting possible – and many unforgettable moments for all participants.
Sanjay Tirkey CSsR / Johannes Römelt CSsR