Letter of the Coordinator – Christmas 2019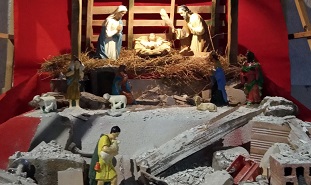 Glory to God in the highest heaven, and on earth peace to those on whom his favour rests. (Luke 2, 14)
Rome, December 22, 2019
Dear Confreres, dear Lay Missionaries of the Most Holy Redeemer, dear Partners in Mission,
In these days we saw the picture of a crib in the Redemptorist mission in Albania, which I also include in this Christmas letter: It shows Jesus Christ, our Redeemer, who is born in the ruins and the destruction of our world. It is a picture that is realistic and at the same it is a testimony to the hope we live on: in many places in our world and in different situations people are fighting for a life in peace and justice; Our Redeemer is born into this world – at the side of the people who have a particularly difficult time and are marginalized – and fills them with his light.
This is also the right place for us Redemptorists to live and testify according to our charisma – such as in Albania, in the country from which the picture of the crib comes.
Representations of the crib are always an expression and stimulus to meditate and understand the mystery of the incarnation and life of Jesus Christ. They are also an attempt to better understand his presence in the current time.
We Redemptorists, together with our partners in the Redemptorist family, carried out a process of discernment in the past two years to better understand our place in church and society in Europe. We did it in order to be able to live our charism in the current situation. A particularly important result are the missionary and apostolic priorities which we have formulated in the course of this process and which were approved at the Mid-Sexennial meeting in Cortona in October 2019. I am very grateful for this process of shared reflection, discussion and prayer, in which many confreres and partners participated (- and for many individual encounters in the course of this process).
In the time to come, we are faced with the task of working with the guidelines of the Apostolic Plan and making them fruitful for our commitment as Redemptorists in Europe together with all our partners. It will be particularly important to consider and do the next steps in a new, deepened spirit of solidarity. In a period in which conflicts are increasing and walls are built in many places, a testimony of solidarity seems to me of particular importance for us Redemptorists. This is exactly what the process of implementing priorities and restructuring in Europe invites to.
Christmas is the feast of a big surprise. God chooses a way to express his love for us humans, which in his radicalism has already deeply impressed and overwhelmed Saint Alphonsus. It is a feast filled with great joy. "Glory to God in the highest heaven, and on earth peace to those on whom his favour rests!"
I wish you all that the celebration of Christmas fills you with this joy and strengthens you with confidence in the presence of the Redeemer.
Merry Christmas and God's blessing in the New Year 2020!
Johannes Römelt C.Ss.R.
Coordinator of Europe