Easter 2020 – Letter of the Coordinator (09.04.2020)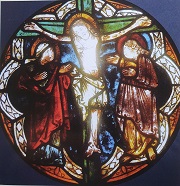 I have given you an example so that you may copy what I have done to you.
John 13, 15
.
Dear Confreres,
Dear Lay Missionaries of the Most Holy Redeemer,
Dear Partners in Mission,
We celebrate this year Holy Week and Easter under conditions that place severe restrictions on us. The measures to contain the Covid-19 virus have the effect that public services and meetings are not possible in almost all European countries. In some countries, even leaving the house is only possible as an exception and under strict conditions.
Our pastoral ministry as Redemptorists is also affected. In order to restrict the probability of infection, spatial distance is necessary – even in situations in which people are worried, shaken and seek support. This causes particularly difficult situations for many people.
At the same time, it is encouraging to see how new forms of solidarity emerge. In many countries, public applause is used to thank those who make a special effort during this time of crisis, but whose work has so far been taken for granted. New neighbourhood aid initiatives are emerging to help those who belong to the group of the most vulnerable. Many of our communities are increasing their presence on the Internet and on social media in order to build up community and enable the common celebration of services. There are numerous suggestions for prayers and celebrations in small groups at home and offers of contact via the different media. The Communications office of the General Government in Rome has initiated a new web page dedicated to the Redemptorist world during this time of the Corona virus. http://www.cssr.news/blog/1/. The special situation also leads to new, creative answers.
We Redemptorists are also badly affected by the limitations of public life. That applies to the various (vice)provinces that planned assemblies have already had to cancel or the plans have to be checked. This also applies to us Redemptorists in the Conference Europe. The planned meeting of "Partnership in Mission" in Porto (April 24-26) has already been cancelled. Together with the two consultors for the Conference Europe, Fr. Gianni Congiu and Fr. Piotr Chyla, I am in contact with the responsible persons to consider how we will proceed in the case of the other events. Planning in the long term is hardly possible at the moment, so we will think and decide step by step. We will inform the (vice) provincials and those involved in good time about the appropriate steps.
A critical situation that we are currently experiencing is also an invitation to reflect. Much of what we normally do is forced to be cancelled. Because this affects our life in community and also the celebration of our faith in community, it hits us hard. As every year, however, we follow Jesus' path these days: We commemorate his gathering with the disciples at the last supper, at which he gave us a strong expression of his presence among us by sharing the bread and washing the feet. We commemorate his path of suffering, which led him to the last abandonment on the cross. And we are invited to celebrate the feast of his resurrection, the beginning of his new life, which he also promises us. I am convinced that the celebration of these days strengthens and renews us on the path of discipleship, especially under this year's circumstances.
I wish you all a blessed celebration of the Holy Week and a happy Easter!
Johannes Römelt CSsR
Coordinator of Europe