Easter 2021 – Letter of the Coordinator (02.04.2021)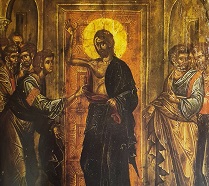 Jesus comes to Thomas and shows him his wounds: Look, the suffering – no matter what suffering – is not simply wiped away or forgotten! The wounds remain wounds. But the one who "bore our suffering" (cf. Isaiah 53,4) also obediently walked through the gates of hell and death, and he continues to be with us (incomprehensibly).
He shows that love endures everything, "many waters cannot quench love, nor can rivers drown it", "love is as strong as death" (Song of Songs 8: 6 f.) – and even stronger…
The resurrection is not a happy ending, but an invitation and a challenge: We must not surrender to the fire of suffering, even if we cannot extinguish it now. We must not behave in the face of evil as if the last word should belong to it. Let us not be afraid to "put our trust in love" (1 John 4:16) even where it loses according to all the criteria of the world. We should have the courage to count on the foolishness of the cross (1 Corinthians 1:18) against the "wisdom of this world"!
Tomáš Halík
.
Dear Confreres,
dear Sisters,
dear Lay Missionaries of the Most Holy Redeemer,
dear Partners in Mission,
We celebrate again the passion, death and resurrection of our Redeemer Jesus Christ. I wish that the celebration of the Holy Week and Easter days strengthens you all on our common way. I wish you a blessed and happy Easter!
Johannes Römelt CSsR
Coordinator of Europe