Easter 2022 – Letter of the Coordinator (16.04.2022)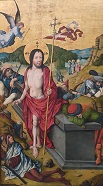 Jesus is God-made-man like each of us, and he expresses himself like a man but with the strength of his divinity. Instead, when is the identity of Jesus solemnly proclaimed in the Gospel? When the centurion says: "Truly he was the Son of God". That is when it is said, as soon as he has given his life on the Cross, because one can no longer be mistaken: one can see that God is omnipotent in love and in no another way. It is his nature because he is made that way. He is Love.
You might object: "What need do I have for such a weak God who dies? I would prefer a strong God, a powerful God". But you know, the power of this world passes, whereas love remains. Only love safeguards the life we have because it embraces our fragility and transforms it. It is God's love that healed our sin with his forgiveness at Easter, who turned death into a passage of life, who changed our fear into trust, our anxiety into hope. Easter tells us that God can change everything into good; that with him, we can truly trust that everything will go well. And this is not an illusion because Jesus' death and Resurrection is not an illusion: it was a truth! That is why on Easter morning we are told: "Do not be afraid!" (cf. Mt 28:5).
Pope Francis
.
Dear Confreres,
dear Sisters,
dear Lay Missionaries of the Most Holy Redeemer,
dear Partners in Mission,
We celebrate again the passion, death and resurrection of our Redeemer Jesus Christ. I wish you all a blessed and joyful celebration of the Easter of Resurrection that fills you with joy and strength to continue the way of discipleship!
Johannes Römelt CSsR
Coordinator of Europe