Father Cyril Axelrod, CSsR. Deaf-blind Redemptorist Missionary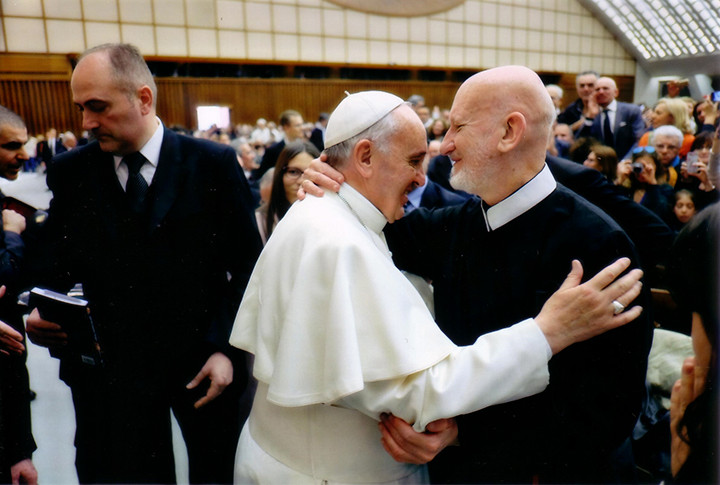 On 29 March 2014 Pope Francis met over 4000 disabled people, mainly deaf and blind persons and also those working with them, at the first official papal audience of this kind. Organized by the Little Mission for the Deaf and Dumb, it took place at the Paul VI audience hall. Pope Francis delivered a powerful allocution on the contrasting attitudes of the Pharisees and Jesus towards disabled persons.
He stressed the role of 'Good Samaritans' towards disabled persons as a challenging witness to the joy of the Gospel in the world. The pope then took the opportunity of meeting those in the front row, including Fr Cyril Axelrod, a deaf-blind Redemptorist priest. Cyril spoke with the pope briefly about a disability such as deafness and blindness, calling it a gift of God to the world. Cyril then presented Pope Francis with a copy of his autobiography, And the Journey Begins, and a personal letter he had written to the pope, in which he invited the Holy Father to send him, as the only completely deaf-blind priest in the world, to send him anywhere he was needed. He then blessed the pope.
Cyril Axelrod was born deaf of Orthodox Jewish parents in 1942 in Johannesburg, South Africa. He was educated at St. Vincent's School for the Deaf, run by Dominican sisters in Johannesburg.
In 1965 Cyril became he was Catholic. He attended St John Vianney Seminary in Pretoria from 1966 to 1970. He was ordained to the priesthood for the Diocese of Port Elizabeth.
Cyril joined the Redemptorists in Cape Town in 1975, making his first profession in 1976. He continued his mission for deaf people, irrespective of colour and faiths. From time to time he preached missions in America, Europe and Australia.
In 1988 Fr. Cyril Axelrod opened and walked along a path and Province of Canberra followed and began a Chinese mission foundation in the year later. In 1988 he moved to Hong Kong and Macau to start a new mission among the Chinese. He remained there for 12 years.
In 1980, while preaching a mission in the USA, he was diagnosed with Usher Syndrome, which is a progressive blindness. In 2000 he became completely blind, but has continued his world mission among disabled people. Cyril has also preached missions in regular parishes with Fr Larry Kaufmann CSsR acting as interpreter and co-missioner, in South Africa and in Malta.
In November 2013 Cyril was awarded the OBE by her Majesty, Queen Elizabeth II for his work in developing training programs for those working with a deaf-blind persons as well as his development of rehabilitation services with deaf-blind people.
Fr. Cyril Axelrod