Social Ministry
 The working group on Social Ministry reflects on how we can make effective, the pastoral care of migrants and those from the margins of society who are often deprived of any pastoral help.
The group consists of following persons:
Fr. Winfried Pauly (San Clemente Province) – chairman
Fr. Urquizo Vasquez Guillermo Ulianov (France Province)
Fr. Ivan Levitsky (Lviv Province)
Sr. Renate Drexler MSsR (Wien)
Mr. Jelle Wind (San Clemente Province)
The group elaborated an understanding of Social Ministry.
The group has started an overview of different initiatives on Social Ministry.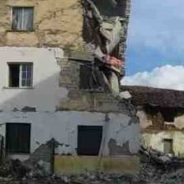 Albania Solidarity Campaign organized by Redemptorist of Madrid In this time of Advent, the Association for Solidarity, a Redemptorist NGO of the Province of Madrid has started the traditional Christmas Campaign in many of Redemptorist communities. This year's motto is "Move for Albania". End of November Nature hit this country with an earthquake, in a very close area of our Redemptorist mission of Kámez (Albania). Faced with this situation we want to show solidarity and join the support and concern of so many people of goodwill who want to...
read more